Leading The Way For More Transparency & Opportunity At Pullman Regional Hospital with Matt Forge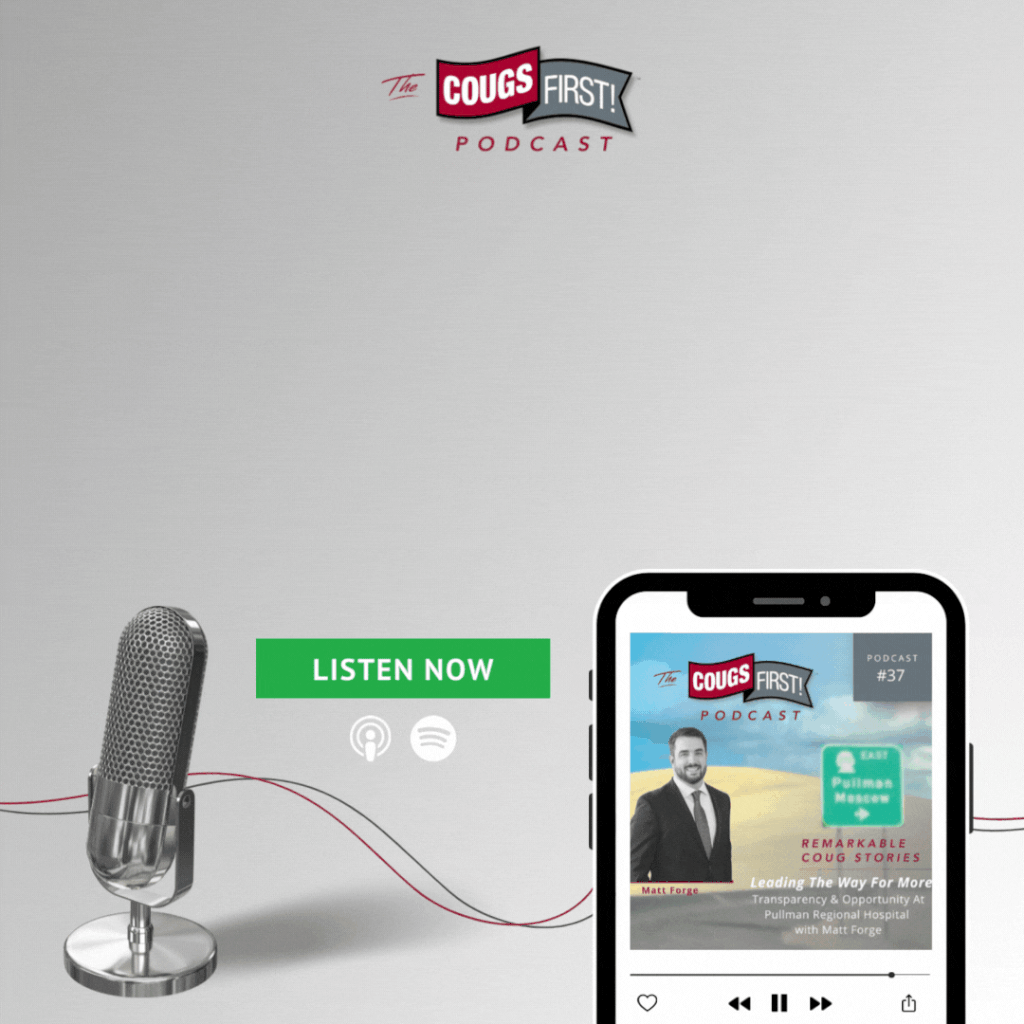 CougsFirst! Podcast EP. 37 – Matt Forge
When moving to a new city or place, you're probably researching the school districts, the different neighborhoods, the local amenities, and whether or not the local healthcare is average or excellent.
Pullman might be considered rural to big city slickers, but when it comes to our hospitals and local healthcare services…well, it's world-class.
Pullman Regional Hospital, in particular, is making a name for itself in the healthcare industry –and we're here for it!
In today's episode, we're talking to Matt Forge, whose education and career path have taken him all over the U.S. before landing him in Pullman as the CEO of Pullman Regional Hospital.
As a leader in the Pullman community, Matt is on a mission to use his position, talents, and influence to impact our community's well-being. And he's been doing a fantastic job so far!
In our conversation, Matt talked about what's unique about Pullman Regional Hospital, the world-class services it offers, how the hospital program is expanding, why we need more transparency in the costs of healthcare, what the rapid growth means for the future of the hospital, and so much more!
Matt's working hard to develop world-class healthcare services for our community, and he's on the CougsFirst! Podcast to tell us all about it. You don't want to miss this episode!
Growth at Pullman Regional
"Now, with the population growth, the great reputation is driving people that come here. We're built on great things. And I guess I would say it hasn't always been here, but through great leadership and trying to stay on the front end, we've gotten to where we are now and we're trying to keep it going and take the next step."
National Model for Rural Health Care
"We have an incredible history; we want to be world-class; and with the resources with Washington State University, we feel that we can be a national model for rural health care and continue helping Pullman thrive for years to come."
---
How to Find & Support Pullman Regional Hospital
Website: https://www.pullmanregional.org/
Foundation: https://www.pullmanregional.org/how-to-help/foundation
---
Like what you heard? Listen to remarkable Coug stories here.
Connect with us!
Facebook | Twitter | Instagram | TikTok