How Individual Giving & Donations Can Make a Positive Impact with Mike Connell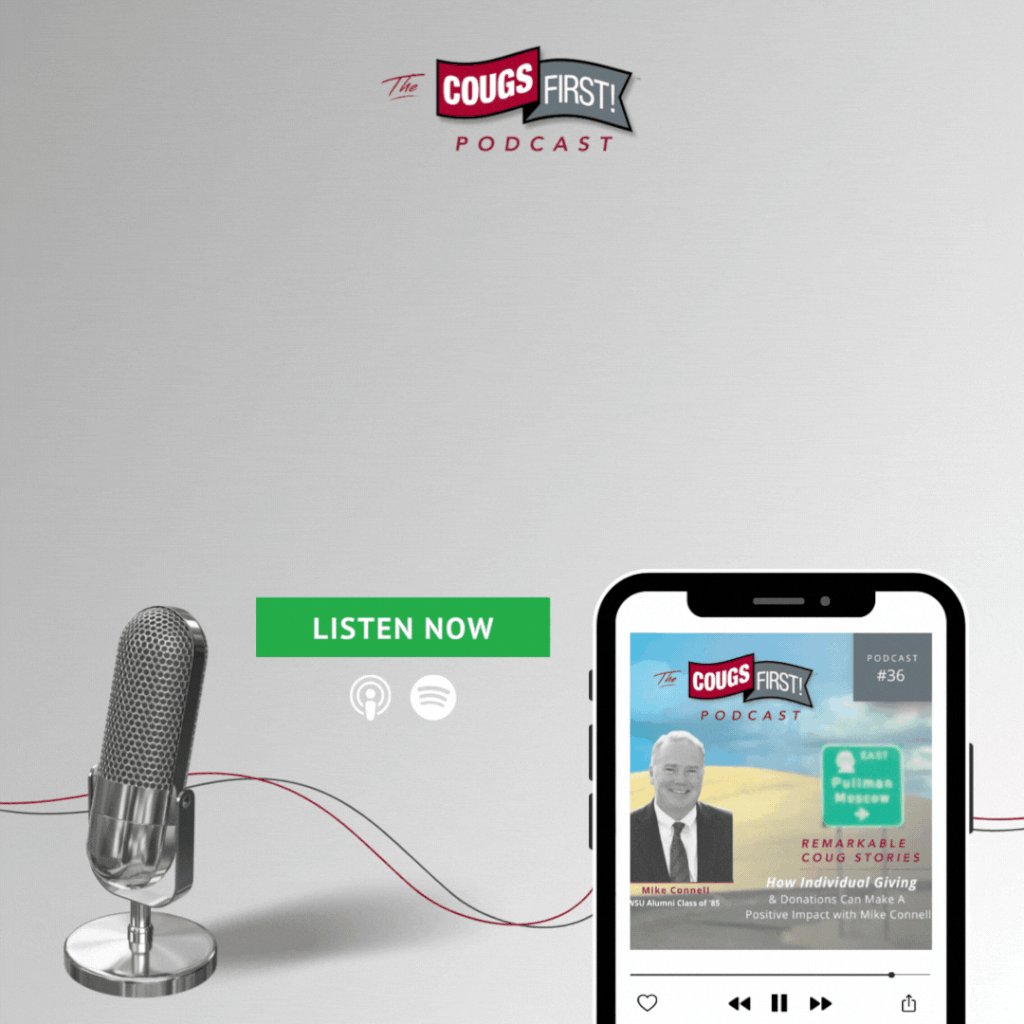 CougsFirst! Podcast EP. 36 – Mike Connell (WSU Foundation)
Whether you graduated decades ago or last year, there are a lot of ways to give back and reconnect with your alma mater.
Unfortunately, many people just don't know what options exist or where to start. Or they don't see how their gift will make an impact.
Well, let me tell you– a gift can make a world of difference, no matter how big or small! The beauty of giving back is knowing that your gift or donation can change a life.
Giving is such a big deal, there are entire departments dedicated to fundraising and encouraging people to give back.
There are even people whose entire careers have revolved around fundraising – like today's guest who has spent over three decades in the giving space!
In this episode, we're talking to the amazing Mike Connell, a lifelong Coug who has devoted most of his career to WSU both professionally and as a student.
Mike is a WSU graduate of '85 and has been working at WSU for 35 years! Starting as a development coordinator for WSU Spokane, Mike held a range of positions at WSU, including Director of Athletic Development, Senior Director of Gift Planning, Senior Associate Vice President of Individual Giving, and even the CEO of the WSU Foundation.
Now, he's taking on his newest (official as of December 1) role as the Vice President for Advancement at WSU!
As Mike eloquently states, "Clearly, WSU is not just home. It's literally in my blood."
During our conversation, we talk about all things giving, including the different ways you can support and give back to your university, how they're keeping up with new technology while maintaining donation levels, what it looks like to stay the course, how the athletic conference changes will affect fundraising (Yep, we go there!), and so much more!
Mike's job is truly just about people –connecting with people, supporting people, and engaging people. And this is truly a unique conversation, so hit that play button to tune in!
Keeping Up with Technology
"We have donors that have supported WSU for 60 years, and so you look at their journey and how it started…Back then, they probably just put a check in the mail. We have alums now that they've never had a checkbook and never will. So how do we make sure we keep up with technology so that they continue to have the easiest pathway to support WSU? And we make sure we're connecting them with the area they're most interested in having an impact."
Seeing Your Gift at Work
"It's just fascinating to talk to folks about how they want to support WSU, trying to figure out how they're going to do it, and where they might distribute their gift. Sometimes it's a gift of stock, which is a tax-wise way to make a gift. We've also helped people give gifts of real estate. Some folks just say, 'Okay, I want to make an outright gift.' Other times people want to spread it out over a couple of years, because it just works better from a cash flow standpoint. Then ultimately, when they get to see their gift at work; the idea that they set up a scholarship and six years later, they have lunch with their scholarship recipient, and the scholarship recipient gets to look them in the eye and say, 'Thank you, if it wasn't for you, I couldn't have gone to WSU. You changed my life, WSU changed my life.'"
The Lighty Impact
"The Lighty building here on the Pullman campus is named after Phil and June Lighty. Phil Lighty was a student in the '30s at WSU. He went to see a professor to say I'm not able to come back, I can't afford to go to WSU. So I just want to say thank you. Phil was ready to leave and the guy said Phil, how much do you need? That professor handed Phil Lighty a check for $60 and because of that, Phil Lighty was able to come back to WSU. Phil said 'I'm not sure I'll be able to repay you,' and the guy said 'I'm sure someday you will be able to, but more importantly you can help somebody else do that.' We recognize the Lightys for giving more than $10M to WSU. If that professor hadn't reached out to Phil – the $10M that the Lightys gave to WSU is primarily scholarships for other students. Phil wanted to provide the marginal difference between out of state and in state costs. The impact and chance that Phil and June were able to meet students that benefitted from their scholarship, and now those students have set up scholarships for other students. The pay it forward and impact is just something that you never get tired of."
---
Supporting WSU
Alumni Association: http://alumni.wsu.edu/
WSU Foundation: http://foundation.wsu.edu/
---
Like what you heard? Listen to more remarkable Coug stories here.
Connect with us!
Facebook | Twitter | Instagram | TikTok