The Value of Analytical Feedback in WSU Men's Basketball with Coach Kyle Smith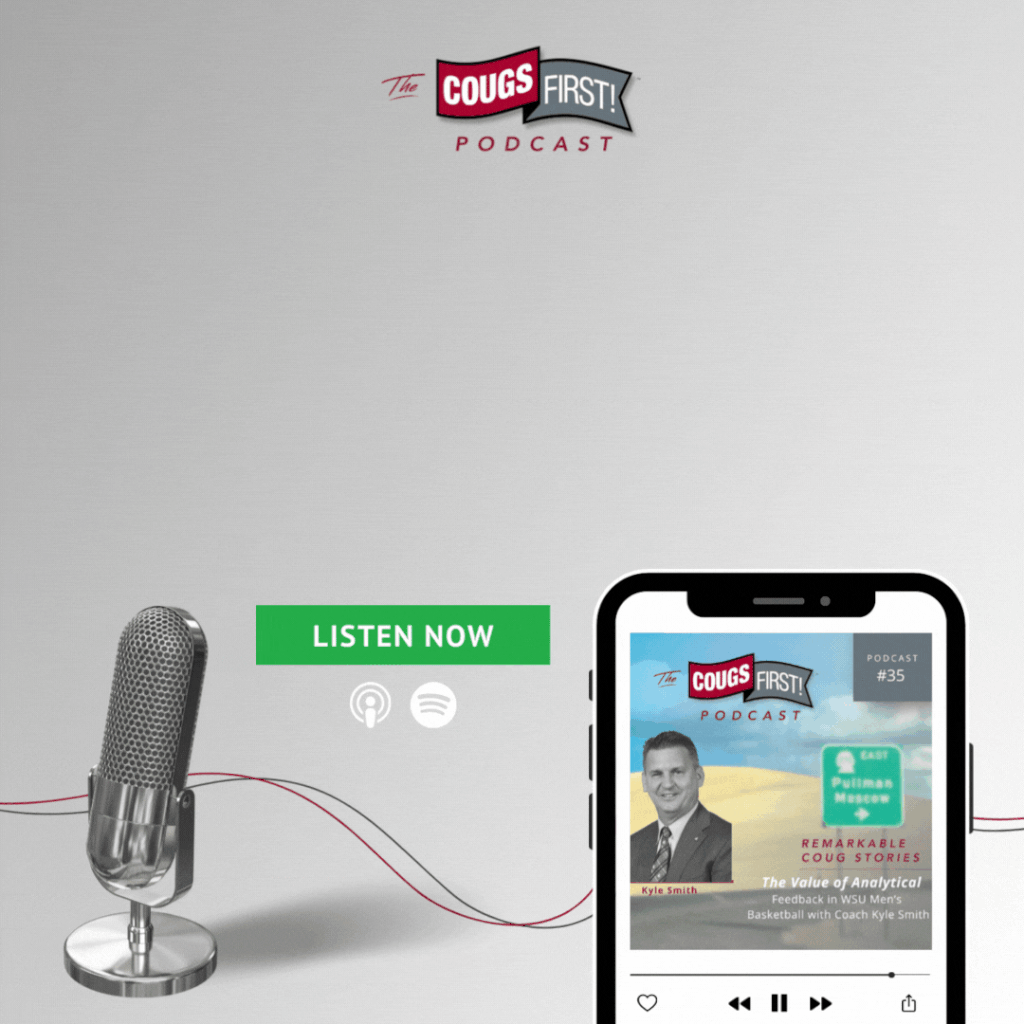 CougsFirst! Podcast EP. 35 – Coach Kyle Smith
Did you know what you wanted to be when you were 13? Only some people do. But when you have a calling, what else can you do but answer it?
That's what our guest today did. He followed the call and has been coaching nonstop ever since.
We're talking 18 years as an assistant coach and 19 years as the head coach at both Columbia University and San Francisco –before getting the head coaching offer of his dreams (hint: it was from WSU).
Have you guessed who it is yet?!
Today, I am talking to one and only Kyle Smith, Head Coach for the WSU Men's Basketball team.
Since 1992, his coaching career has taken him coast to coast before landing in Pullman, Washington, where, in his first season at WSU, he turned the men's Cougar basketball program into a competitive product and established the team as an up-and-coming force in the Pac-12 Conference.
In this episode, Coach Smith and I talk all about the team culture, finding the value in players (and plays), taking responsibility, and the nitty-gritty of what we should expect from the upcoming season. He's also giving us an inside look at his unique analytics-based feedback system and how that's helped the men's basketball team improve their performance day over day and year over year.
There's a reason Kyle Smith is WSU's Head Basketball Coach, and this episode is spilling the beans on why –and you don't want to miss it!
"Nerd Ball" or Analytical Feedback?
"It basically turned into a way for us to create an efficiency rating for players and give them feedback. And it just made practice and the development part more important and competitive. So you're basically getting these guys feedback every day and in best way."
Analytics and Recruitment
"It's been a good tool for us. We sell it in our recruiting and I think it's gonna scare some people off, but I think it really appeals to the guys there that are driven, type-A guys. We say smart, responsible wins. So I think, or I'm hoping, everyone likes to hear they're smart. Smart and responsible guys really like this. And I think you can build a culture too. There are so many things you can do with it."
Consistent Team Improvement
"A lot of our analytics are quantifying the intangibles. That's what it's all about – things that make you win and we quantify culture things. Guys are able to be accountable. So this team is coming together and they're really an unselfish group; a really hard working group. I think that's some of the culmination where the expectations as guys have been in the program year over year and we've gotten better."
---
Where to find Kyle and WSU Basketball:
Website: http://wsucougars.com/
---
Like what you heard? Listen to more remarkable Coug stories here.
Connect with us!
Facebook | Twitter | Instagram | TikTok