Grittiness, Passion, & Competitiveness with WSU Volleyball Head Coach Jen Greeny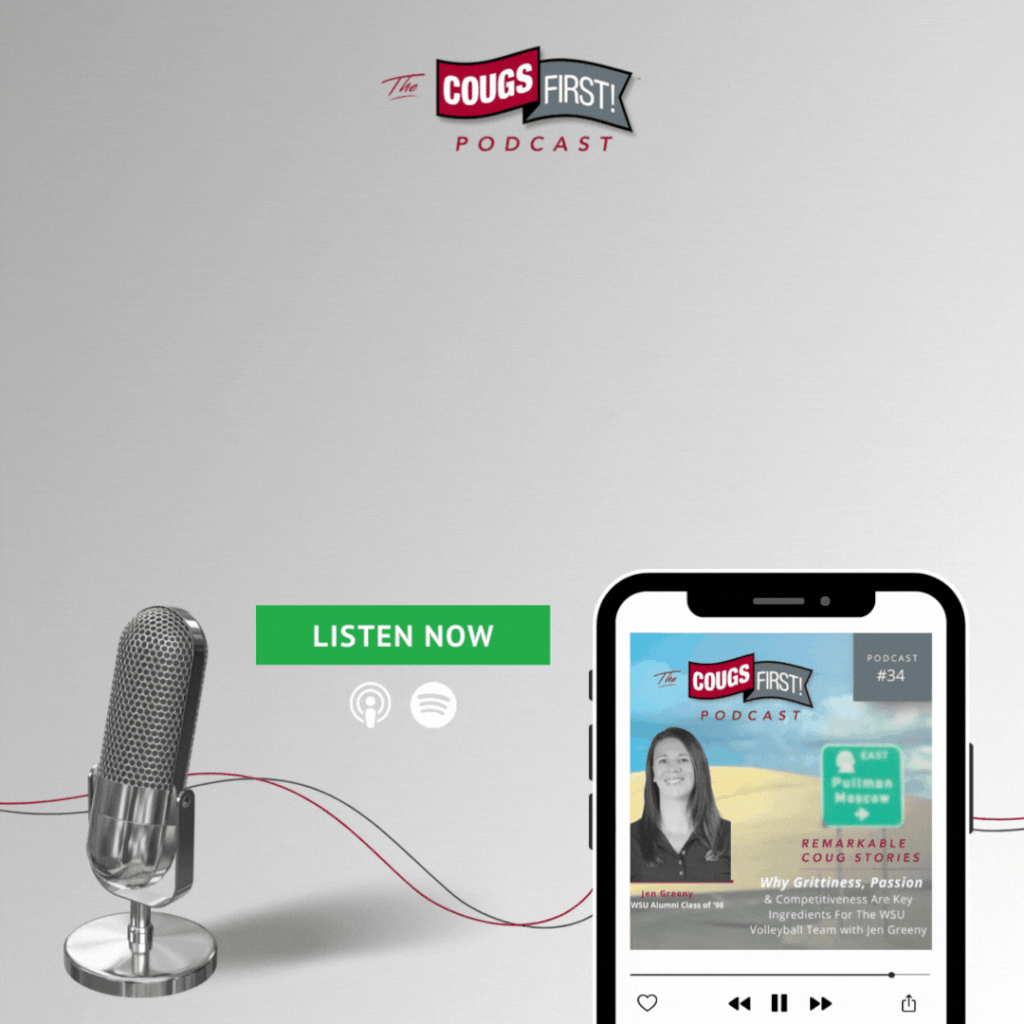 CougsFirst! Podcast EP. 34 – Jen Greeny
Grit, passion, hard work, and competitiveness are the key ingredients needed to win. But behind all that is compassion, guidance, a good attitude, and effort. Together, these elements make up the WSU women's volleyball team –and we're here for it!
Today, we are talking to the incredible Jen Greeny, a previous collegiate athlete who's now going on 12+ years as the WSU Volleyball Head Coach. She's a firm believer in bettering the lives of the student-athletes and, of course, winning! Did we mention she has tons of awards and accolades behind her name, too?
And we're talking all about it!
In our conversation, Jen shares her unique experience as a student-athlete in the 90s, her perspective on being a player versus being a coach, why she takes such a holistic approach to a student's journey through WSU, the importance of grit, passion, and competitiveness (and why WSU has got it!), how to support WSU sports during this time, and so much more!
Jen is living proof of how special WSU is and what it looks like to lead from a place of heart –and you don't want to miss this episode!
College Athlete Recruitment
"There's just something really special about collegiate athletes and recruiting. Your team is ever changing and evolving, and you get them at a time of life that they have left their parents house. They're kind of finding out who they are on their own, but with a lot of structure from coaches and guidance as well. So a really fun time, especially between their freshman and senior years to really see that growth."
Focus on What You Can Control
"You have more confidence when you work hard; you feel better. You have control over how hard you can work. We don't have control over a lot of things right now. Especially, you know, conference alignment and whatever. But we do have control over our attitude and effort."
Reassurance & Working Together
"What most young people and student athletes need is just some reassurance that it's all going to be okay. We don't have control over the conference or whatever that might be. But we can get in the gym and we can focus on what we can do this year. And every day, we're in the gym together."
---
Where to Find Jen & WSU Volleyball:
Website: https://wsucougars.com/sports/womens-volleyball
Instagram: @wsucougarvb
Twitter: @wsucougarsVB
---
Like what you heard? Listen to more remarkable Coug stories here!
Connect with us!
Facebook | Twitter | Instagram | TikTok