Leaving A Legacy Through Music with DJ Goldfinger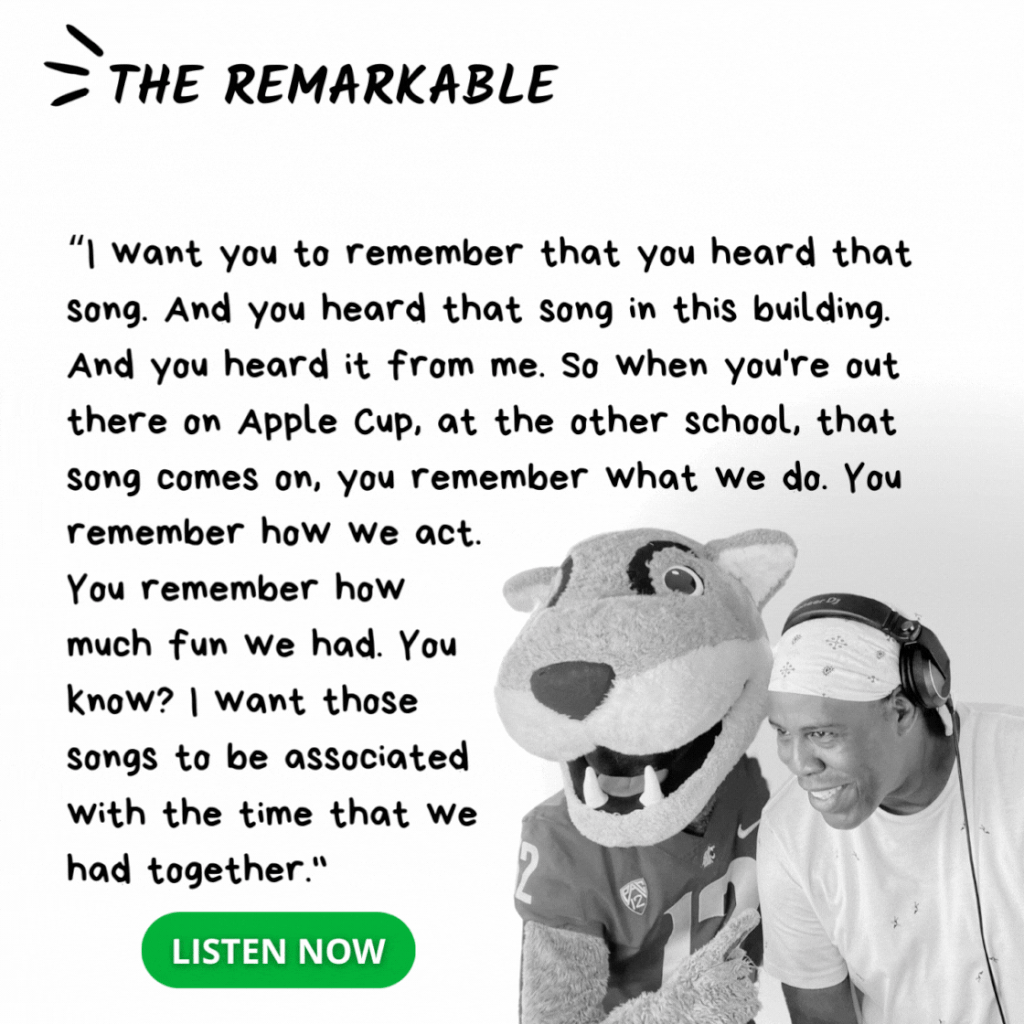 Podcast Ep. 30 – DJ Goldfinger
Do you live in the moment? Or do you pull out your phone to relive the moment later? What songs bring you back to your days in Pullman? What kind of legacy do you want to leave behind?
These are some deep questions.
But they're also relevant and meaningful, and thought-provoking.
And we're talking about them in today's episode because I've got the GOLDen guest of the century on the CougsFirst! Podcast!
If you've spent just five minutes in Pullman, I'm sure you've met him, know of him, or even gotten a ride home from him at the end of the night. He's that kind of Pullman famous.
Yep, I'm talking to the one and only DJ Goldfinger. You might have seen him around town at Stubblefields, CJ's, BEACH, Valhalla, Pullman Fourth of July parties, Dunes, CCN/CCS, or even beginning of the year apartment parties. He's everywhere –and for good reason!
DJ Goldfinger has been DJing for over 25 years, from Vancouver to Portland and, of course, Pullman itself. He's the myth, the legend, and Pullman's favorite DJ.
And he's here to talk shop.
We're talking about everything from the bonds and connections WSU creates and the lost art of living in the moment to making those dream-making moves and leaving behind a legacy through music.
I am so PUMPed for this conversation–pun intended. So listen in and listen well because there are some big takeaways we all need to hear and digest and implement inside this episode!
Leaving a Legacy
"This one guy told me, man, you always play that song. And it's like, yeah, I do. Because I want you to remember that you heard that song. And that you heard that song in this building. And you heard it from me. So when you're out there on Apple Cup, at the other school, that song comes on, you remember what we do. You remember how we act. You remember how much fun we had. You know? I want those songs to be associated with the time that we had together."
Memories Through Music
"When people come back, like I said earlier, when they come back to town, and they tell me a story. And then I realized, either they tell me a story, or they ask for a song. And it reminds me of the year they were in school. And then it gets me going because my mind clicks back to that time. And I go, oh, I was playing this and I was doing this, you know, and I understand where they were at during that time period."
---
Where to Find DJ Goldfinger:
Instagram: https://www.instagram.com/djgoldfinger/
Instagram: https://www.instagram.com/timberpullman/
Facebook: https://www.facebook.com/timberpullman
Website: https://timberpullman.com/
---
Like what you heard? Listen to more remarkable Coug stories here!
Connect with us
Facebook | Twitter | Instagram | TikTok