How A Family-Owned Business Found Success Through Diversification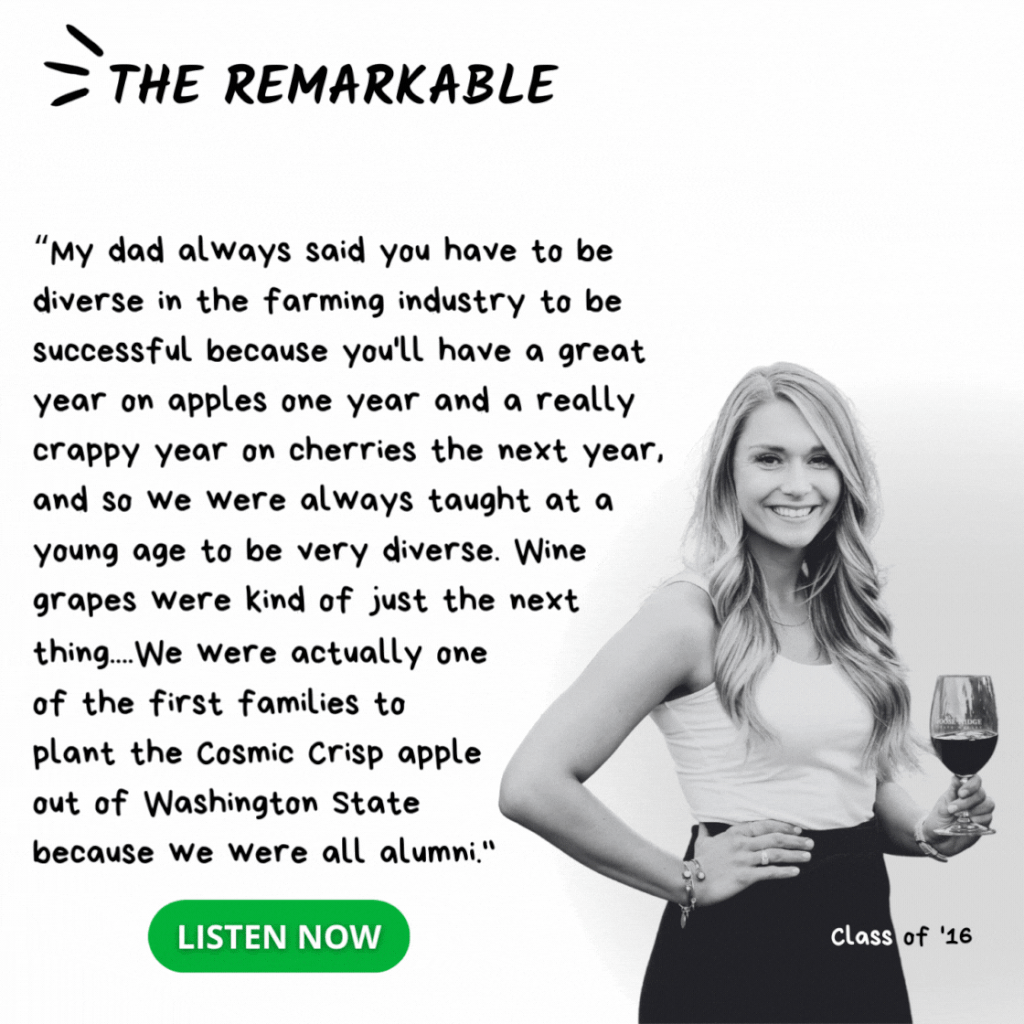 Podcast EP. 30 with Taylor Monson Jackson
Growing up and eventually working for your family's business is no small feat. Especially when this Washington farming heritage owns and runs multiple different brands in a variety of industries.
But what roots everything together is family, farming, and giving back to the community.
Yet those burning questions are still there: What's it like working with your dad? Your aunts? Your brother? How do you diversify your products and stay relevant? How do you break into new industries as a farmer? How can you capitalize on your agricultural expertise through partnerships? How can your family-owned business create opportunities for your local community?
Get ready for some answers because today's guest is a fourth-generation Monson whose family roots began in farming and agriculture (in the 1930s!) and continue to grow and expand with cutting-edge distilleries, cideries, vineyards, and so much more!
Taylor Monson Jackson, grew up surrounded by vineyards, orchards, and cattle. After graduating from WSU (class of '16), Taylor started working for the family business first as a lab tester and tasting room associate before shifting into her current role as the Director of National Sales and Marketing at Goose Ridge Estate Vineyards & Winery business, Destination Brands, and Monson Ranch Distillers.
Taylor is giving us the inside scoop on what it's like being a part of a family-run business, why diversifying your offers and business is key to weathering the shifting landscape, how she navigates the different brands of her family business, their passion for WSU, and the benefits of partnerships.
Did we mention she comes from a long line of Cougs? You definitely don't want to miss this unique episode! 
Why Diversification?
"It was from our farming roots and my dad always said you have to be diverse in the farming industry to be successful because you'll have a great year on apples one year and a really crappy year on cherries the next year, and so we were always taught at a young age to be very diverse."
Importance of Family Land
"At the end of the day, we're farmers and the land is so important. If you're good to the land, you know, the land will be good to you."
Working with Family
"Keep going every single day, and be a team player. That's really what you have to be and you have to be like that in any aspect. But, you know, with our family business, we all kind of have our own direction and our own kind of division and it's worked really, really well for our family. And I would just say, you know, like I said, Be a team player."
---
Where to find Taylor & Goose Ridge:
Goose Ridge Winery: https://www.gooseridge.com/
Monson Ranch Distillers: https://monsonranchdistillers.com/
---
Like what you heard? Listen to more remarkable stories by Cougs. Click here!
Connect with us
Facebook | Twitter | Instagram | TikTok