Podcast EP. 29 – Jerry Martinez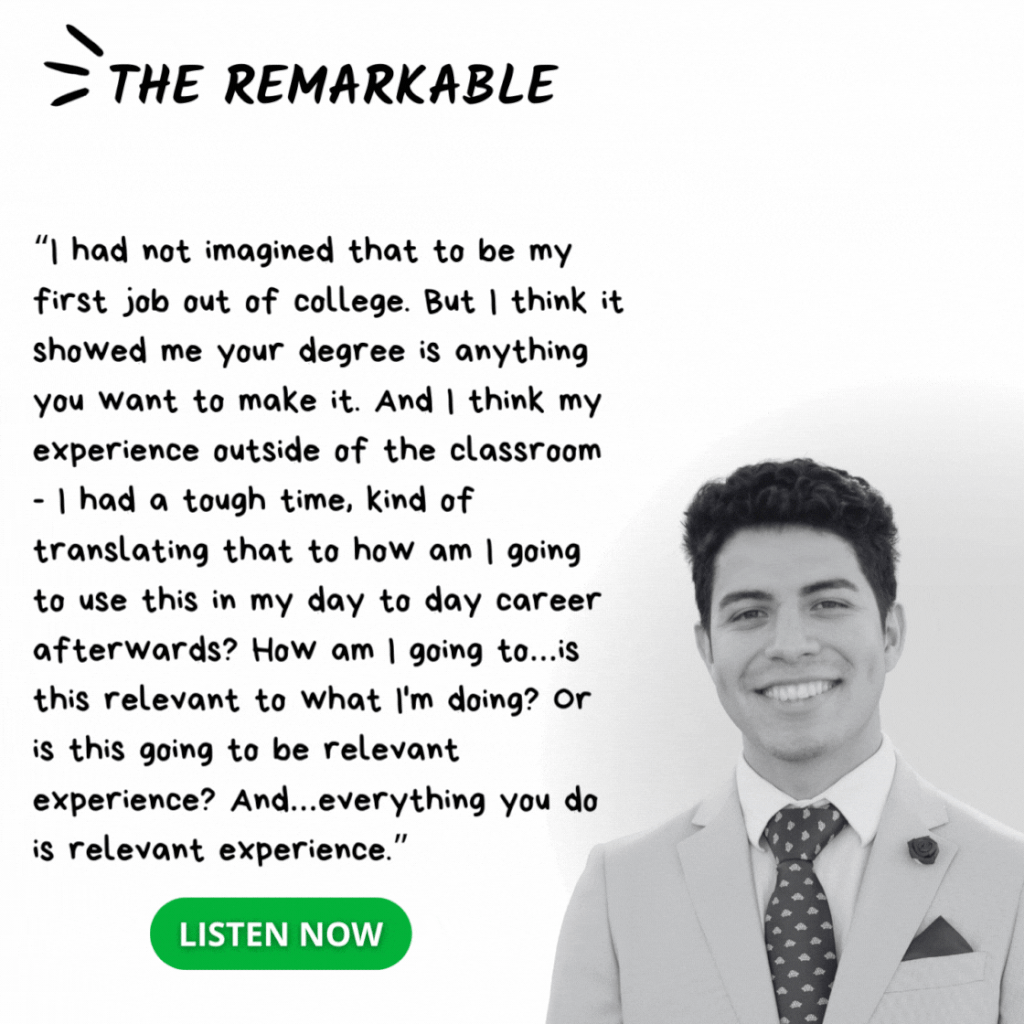 Why Everything You Do is Relevant Experience for Your Career with Jerry Martinez
Imagine getting into college by the skin of your teeth, throwing yourself into all the extracurricular activities available to you at university, switching majors three times until you find the right fit, going abroad (and traveling out of state) for the first time in your life, and then becoming a young leader in your hometown community developing opportunities for people to grow and succeed.
Now imagine you're 24 years old, and you're only just getting started!!
Today I'm chatting with the incredible Jerry Martinez, a first-generation college graduate of WSU (Class of '20) and youngest son of two immigrant farmworkers from El Salvador.
Jerry is sharing about his journey through university, including how he barely got into WSU, why he switched majors before finding the best fit, the importance of getting involved in extracurricular activities at university, why every experience you have is relevant for your career, and how he ended up back in his home town as the Executive Director for the Downtown Pasco Development Authority.
This is a story of determination, hard work, a little luck, and a lot of open-mindedness –and you definitely don't want to miss it!
Not only will you hear about Jerry's unique experience, but he's also giving sage advice for graduating high schoolers, newly minted Freshman Cougs, and recent college graduates on the importance of creating your own version of success and supporting your local community.
Everything is Relevant Experience
"I had not imagined that to be my first job out of college, but I think it showed me your degree is anything you want to make it. And I think my experience outside of the classroom – I had a tough time, kind of translating that to how am I going to use this in my day to day career afterwards? How am I going to…is this relevant to what I'm doing? Or is this going to be relevant experience? And…everything you do is relevant experience."
Applying Your Degree After Graduation
"I went to college study for four years. And the first thing I'm doing outside of college, I'm using my education for people just like my parents, people who are working in the fields, especially during a really tough time. 2020 was super rough for everyone. I mean, for farmworkers, it was no different. They were one of the essential workers having to go back day to day. There was also a bunch of wildfire smoke that summer. All across Washington, there was a bunch of wildfire smoke, so that was also a health concern. And yeah, there was so much but I owe a lot to that first job out of college that showed me you know, my degree is anything I want to make it and so from there, I kind of just opened the doors to the nonprofit sector and I've since had a bit of some exciting growth and development in that area."
Giving Back to Your Local Community
"This is something I very much promote now is, I think when you're graduating, there's an idea of where success is, or success is not, in your hometown. Or there's not opportunities in your hometown. And I was forced to just kind of move back to my hometown, because of the situation in 2020. But I think there's a real need here for young leaders to step in and for, you know, young graduates to really make a lane for themselves. I think a lot of people in our community, they go off to college, and they take all that knowledge and resources and energy, and they take it somewhere else. Everyone has a unique idea and situation they're in, but I think there's also that need for people to come back to where they grew up and give back to the community, or you know, work on the things that they wish their community had and develop those opportunities for the people after us."
---
Connect with Jerry Martinez!
LinkedIn: https://www.linkedin.com/in/jerrymartinezwsu/
---
Like what you heard? Listen to more remarkable stories by Cougs. Click here!
Connect with us
Facebook | Twitter | Instagram | TikTok