Podcast EP. 26 – Tony Bean & Pullman-Moscow Regional Airport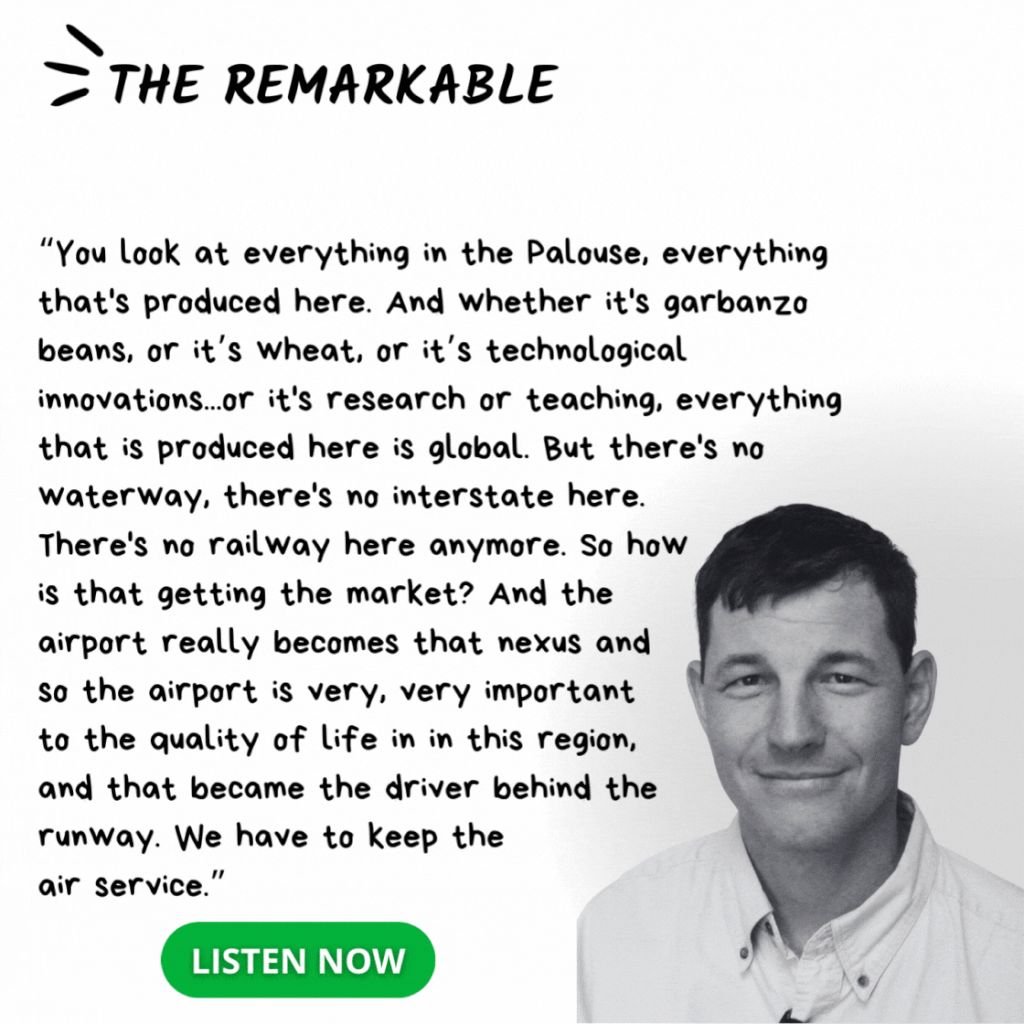 The True Story Behind the Pullman-Moscow Airport Runway Realignment Project
If you've flown into Pullman recently or made the drive past –you might have noticed the Pullman-Moscow Regional Airport has been receiving a little TLC.
But why did the upgrade happen? What went into the new and improved airport runway? What does this multi-million dollar airport redevelopment mean for the Pullman and Moscow communities?
We're getting into all that and more with our super special guest, Tony Bean!
Originally from Montana, Tony is now the Director of the Pullman-Moscow Regional Airport. Tony's been in Aviation for over 25 years, working in everything from TSA to Helena Regional Airport Airport and Yellowstone Airport before moving to Pullman in 2011.
More recently, Tony guided PUW through a $154 million runway realignment project to retain air service to Seattle, expand service to Boise, support and increase connectivity, and improve the standard of travel amenities and convenience to the public.
Tony is giving us all the history of the airport, the updates, what's happening behind the scenes, and what this means for the area. Plus, you'll learn about the laws behind aviation, why Congress got involved in this project, how to find millions of dollars of funding, and why local communities benefit from airports.
You definitely don't want to miss this special episode!
Airport Contributes to Quality of Life
"You look at everything in the Palouse, everything that's produced here. And whether it's garbanzo beans, or it's wheat, or it's technological innovations that come from companies like Schweitzer or Meter, or it's research or teaching…everything that is produced here is global. But there's no waterway, there's no interstate here. There's no railway here anymore. So how is that getting to market? The airport really becomes that nexus and so the airport is very, very important to the quality of life in this region, and that became the driver behind the runway. We have to keep the air service."
Pullman & Moscow Collaboration is Key
"Collaboration here is huge. When I go to a conference, or like next week, I'm going to Washington DC. And people talk about their airports and the entities that are in airports and everything. And then it comes to a place like us. And I tell them that well, we've got two mayors and two city reps and two Canada reps and two university vice presidents that are located in two states that are politically diametrically opposed. And it all works. And it works every time. Nobody believes that, but it does work here and it works here because we have people that are coming through our educational institutions that are in our communities and believe in collaboration. They believe in the growth of people and they believe in what you need to do."
---
Where to find Tony & the Pullman-Moscow Airport
Website: www.flypuw.com
---
Like what you heard? Listen to more remarkable stories by Cougs. Click here!
Connect with us
Facebook | Twitter | Instagram | TikTok