Robbie & Zach with Cougar Collective – Podcast EP. 21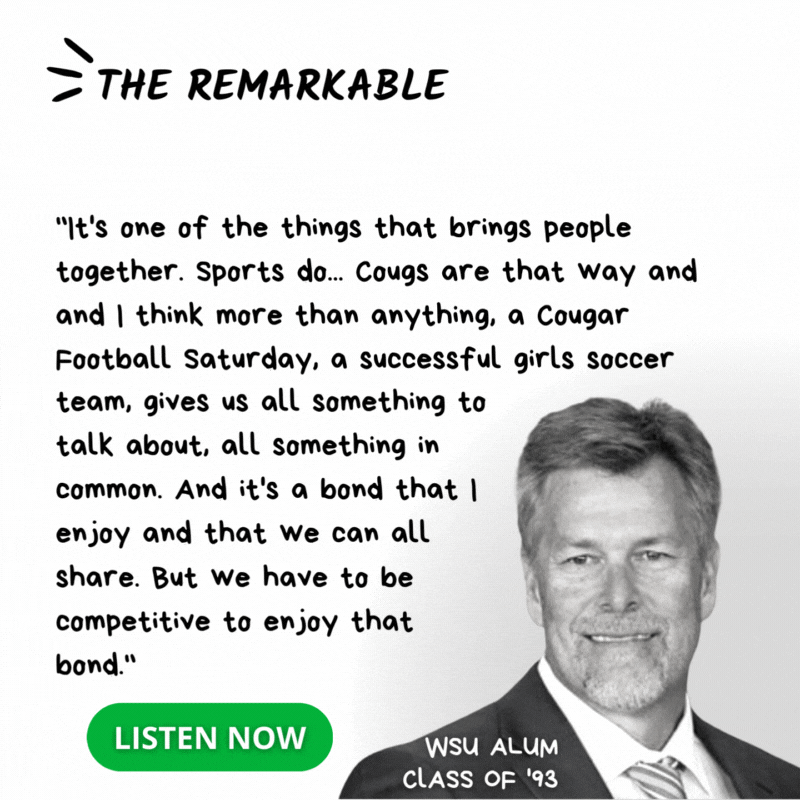 WSU alumni Robbie Tobeck (Class of '93) and Zach Thornton (Class of '22) are on the CougsFirst! Podcast to tell us all about NIL and the Cougar Collective. 
As alumni, we all know WSU is a special place. The experience of being a part of the Coug family is something we want more students to experience – including the athletes we recruit to our sports teams!
But the athletic world needs money to stay competitive – so how can we step up our competition so WSU can remain relevant while funneling talented student-athletes into Pullman?
Sports Bring People Together
"It's one of the things that brings people together. Sports do. Think about the Seahawks winning the Super Bowl a few years ago. You go to the grocery store, and you're talking to people you never you never would have talked to otherwise, because you both got to Seahawks jersey on or whatever it might be. Cougs are that way and I think more than anything, a Cougar Football Saturday, a successful girls soccer team, etc. gives us all something to talk about, all something in common. And I think it's a bond that I enjoy and that we can all share. But that bond, we have to be competitive to kind of enjoy that bond."
Staying Competitive
"We have to be competitive. And we have to flip this to be an advantage for Washington State University. You know, we know why Pullman is great because we we went to Pullman, you know, we we went to Washington State we lived in Pullman, we lived and breathed that we know why it's special. We need to get kids there. This isn't this is a recruiting advantage if we're willing to make the commitment." – Robbie
NIL Impact on Recruiting
"It used to be that facilities were the only thing that mattered and you know some of the perks that way now it's NIL. Every player, every recruit, every recruit's parents, these guys are getting agents now in high school. All these people when a coach sits down with them, they're asking about NIL opportunities at Washington State University. We have to be able to provide those and those coaches have to be able to say, yeah, if you come to Washington State University we have, you know, all our guys are on NIL deal."
The Future for NIL
"We have a really, really unique opportunity here to be closer to athletics than we've ever been. To be closer to the student athletes than we've ever been. And now, finally, that Coug passion that we've been talking about this entire episode, we can actually put it somewhere and see tangible results. And so who knows what's gonna happen, but we know one thing is that we got to keep moving forward." – Zach
Impact on WSU Athletes
"These NIL deals, although it's different, it's new. It's still meaningful to these kids. Obviously, it enhances their experience at WSU and employment and I think overall over time it's going to be a benefit, and it's going to pay itself back."
---
How to find Cougar Collective:
Website: www.CougarCollective.org
---
Like what you heard? Listen to more remarkable stories by Cougs. Click here!
Connect with us
Facebook | Twitter | Instagram | TikTok