Rachel Bearbower: Nonprofits, Hiking + Farming | CF! Podcast Ep. 20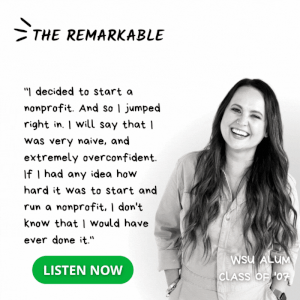 In today's episode of CougsFirst! Podcast, we talked to the amazing Rachel Bearbower, a financial industry dropout turned nonprofit Executive Director turned nonprofit consultant. 
During our conversation, Rachel tells us all about her unique adventures post-WSU, why WSU has always been a common thread throughout her adult life, how she landed in the nonprofit sector (plus details on that industry), what she's learned about picking up and moving to a farm in Iowa, and so much more! 
How a Husky family created a Coug
"My whole family are all Huskies. So much purple and gold in my life. I was your typical teenager who was like 'I'm going to do the exact opposite of what my parents want me to do.' Of course they're totally supportive though "
"Someone spoke at my high school who went to WSU, and I was like, 'Yeah, let's go there.' I had a teacher who was a Coug. He was pretty cool. The stars just aligned."
Quitting finance to start a nonprofit 
"I was done with finance. And I decided to move back to Washington, back to my hometown, Bremerton. And I think that shocked me more than everyone else. And I decided to start a nonprofit. And so I jumped right in. I will say that I was very naive, and extremely overconfident. If I had any idea how hard it was to start and run a nonprofit, I don't know that I would have ever done it. But you know, hindsight is 2020. And I'm so glad I did. You just jump in, and put one foot in front of the other."
Running into Cougs on the Pacific Crest Trail
"I ran my organization for seven years, and then I took a little leave of absence to  move across the country. But then I decided to try to walk across the country. So I hiked the PCT trail. I only ended up doing 800 miles, but it was an incredible, incredible trip. And there were Cougs all the way along the trail. I was constantly running into people from WSU or having some sort of connection to Pullman. It was so much fun."
What led to her life on a corn and soybean farm 
"I went ahead, and I fell in love with a farmer. A, and I am now living in Iowa, on a farm. We are farmers. I'm a farmer in training. Just before the pandemic, we moved out to his family farm, in Northern Iowa, and we farm corn and soybeans."
"Never in a million years did I expect that I was going to be living somewhere where there were tractors out my window, but here we are. So, I  moved out of the Northwest into  farmland and I'm  learning how to be a farmer."
How to find Rachel: 
Like what you heard? Listen to more remarkable stories by Cougs.
Click here!
Connect with us
Facebook | Twitter | Instagram | TikTok