Glenn Johnson: Voice of The Cougs & Pullman Mayor | CF! Podcast Ep. 19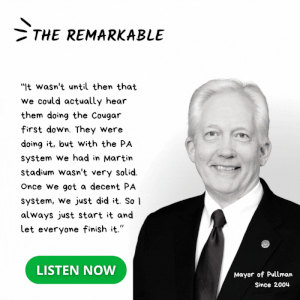 In the grand scheme of Cougar Nation, a lot of people have brought tradition, spirit, talent, and so much more to the table here at Pullman. From football coaches to professors and students, we have a lot of incredible people involved in this small-town university. 
But what about the man who is literally the voice of the Cougs? (and WSU, for that matter!?)
I personally think a little light needs to shine in this man's direction, and after you listen in on this episode, you will, too!
Glenn Johnson is not only the Mayor of Pullman (since 2004!) and was a professor at WSU (from 79 to 2014), but he's also been the Public address announcer for Cougar football and Men's basketball since 1980 (yep, that is 43 years in case you were wondering!). 
From Managing Radio Stations in Sacramento to Teaching at WSU
"I knew about Washington State University, and even did a report on Murrow when I was at UCLA. So I knew about Ida Lou Anderson, who was his speech instructor, and those kinds of things. And then I saw an ad for a radio station manager at WSU while I was managing a couple of radio stations in Sacramento at the time. And I said, Ah, I'll give that a shot even though I wasn't hired for that. But somebody on that interview committee said, hey, we have some openings to teach here, would you like to do that?"
How a Weekly Coffee Group Led to Him Becoming The Voice of the Cougs
"All kinds of people were at that coffee group, so I really started learning about WSU and oh, man, some of the stories that you could hear. Some of them were true too. It was really exciting."
"He says, 'I know you've been in broadcasting here…have you ever done public address work? Would you be interested in possibly doing the public address work for us for football and men's basketball?'"
"Now I'm in my 43rd year of doing public address work for the Cougs."
Starting the "Cougar First Down!" Tradition 
"Well, we had a lousy public address system at that time. They had these little metal things about every 10 yards, and they were little speakers, and maybe half of them worked. So it was Jim Livengood, our athletic director who finally bought us a decent public address system. And so when I said, 'And that's another…'  you could hear the crowd respond, and it was just fantastic. Going like, 'Wow, this is great. They're actually doing it!' So it wasn't until then that we could actually hear them doing the Cougar First Down."
"And then you go to the Seahawks stadium, and they're doing it, in Boise, they're doing it, in other places. I just want to make sure the Cougs get credit. We did it first. We're the ones who came out with the idea."
Serving Five Terms as Mayor of Pullman 
"This is my fifth term. When I first announced that I was going to run for mayor, there were a couple of people who announced that they were going to run for mayor too. One actually did it publicly. And then, when it came time to file your papers that one week in June, I got a call from the city supervisor at that time, John Sherman, who said, 'Glen, congratulations, you're the mayor.' I said, 'No, I haven't run through it.' He said, 'No, nobody filed.'"
"And fortunately, I've had nobody file against me in five races."
How to find Glenn: 
Like what you heard? Listen to more remarkable stories by Cougs.
Click here!
Connect with us
Facebook | Twitter | Instagram | TikTok